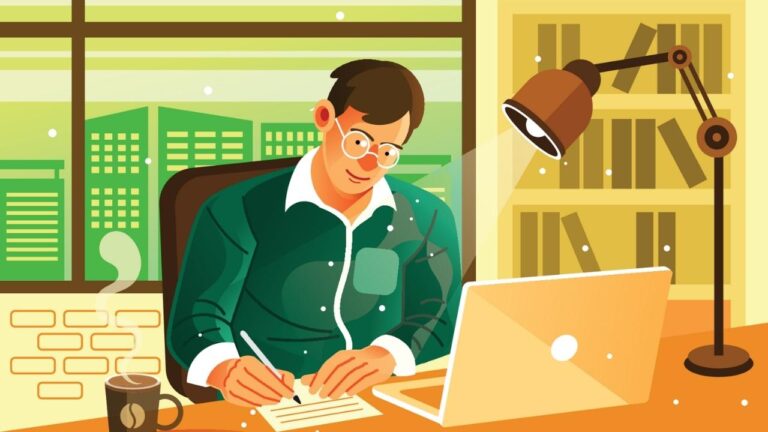 Building the degree of self-worth and confidence required to perform well in a professional capacity can be difficult. Fortunately, there are a number of techniques you may do to get rid of bad thoughts and change your thinking for the better. Consider adding positive affirmations for work to your daily routine if you're seeking for ways to increase your self-assurance, perform better at work, increase your productivity, and lower your stress levels. In this post, we define affirmations, discuss their advantages, and provide a list of 99 affirmations that will increase productivity.
How To Apply These Positive Affirmations For Work
The positive affirmations for work below are meant to promote positivism, self-assurance, and inner calm. These positive statements are intended to reaffirm your inner strength and give you the bravery and fortitude to handle anything that may arise at work.
Affirmations can be used as a midday pick-me-up while you're at work or to help you create a happy mindset while you get ready for work.
Here are a few quick and efficient ways to employ affirmations:
Every morning, jot down 3 to 5 affirmations.

While taking a shower, getting ready for the day, and throughout your daily commute, say encouraging things aloud.

Create phone notifications with positive affirmations that will appear sporadically throughout the day.

Place post-it notes with empowering affirmations all over your workstation.

Make a deal with a friend that you'll send each other motivational texts throughout the day.

Make a Pinterest page for daily affirmations so you may browse it whenever you need a pick-me-up.

Before you go to sleep every night, repeat three affirmations.

Start paying attention to your ideas as well. Take charge of your thoughts and decide to speak empowering affirmations to yourself whenever you become aware of a negative idea that doesn't promote or benefit your overall wellbeing.
You'll be astounded by how drastically and rapidly your entire environment changes once you begin cultivating a more optimistic outlook.
1.     Every day that I work, I enjoy it.
2.     My customers value and appreciate the work I do.
3.     My coworkers enjoy spending time with me.
4.     My enthusiasm for my work shows that I am passionate about what I do.
5.     My enthusiasm for my work spreads quickly.
6.     I give myself a reward for my perseverance and hard work.
7.     When I compliment my coworkers, they return the favour by complimenting me.
8.     My workplace is serene and loving.
9.     The work I perform is valued by my supervisor.
10.  I work at my ideal job.
Positive Affirmations For Work
11.  I am a respected worker.
12.  I am excited and enthusiastic about my work.
13.  My coworkers value the work that I perform.
14.  I work effectively.
15.  There will be other times when I can unwind, but today I must concentrate and work.
16.  I work hard and smart.
17.  To avoid becoming overworked and having the want to give up, I take days off from my work.
18.  For those who work hard, good things come.
19.  I am determined to work out as much as I can, whether I am at work, out or at home.
20.  Work, rest, and play all have their proper places in my life.
Daily Affirmations For Work
21.  I enjoy my work.
22.  I am well paid for the work I do.
23.  I am willing to work hard and earn millions of dollars.
24.  I find it simple to continue working hard, since despite opposition and negativity, I also work smart.
25.  I work at a job that I enjoy and get paid well.
26.  I work very hard.
27.  My work is meaningful and fulfilling.
28.  I ought to have a job and get compensated fairly for the time, work, and thoughts I contribute.
29.  My creative work reflects my soul.
30.  I have no trouble finding fulfilling work.
Affirmations For Success At Work
31.  I put my all into the work I do because it's important.
32.  At work, I am regarded and appreciated.
33.  I have a strong commitment to the long term and I think that working hard pays off in the end.
34.  I manage to combine work and play just well.
35.  I put in a lot of work first and play later.
36.  My work makes my life more fulfilling and satisfying.
37.  I work quickly to complete my assignments.
38.  This planet is greatly impacted by my work.
39.  I request significant work, which I complete with the utmost care and attention.
40.  I work hard every day.
Monday Affirmations For Work
41.  Everything will work out for me, I am sure of it.
42.  My goals will be realized as a result of my careful planning, decisive action, and diligent work.
43.  I have got a great work ethic.
44.  My workstation is exclusively open to optimism and productivity.
45.  I am working on improving myself to be the best version of me.
46.  I am paying close attention to my work today.
47.  Every day, I work toward my goals through action.
48.  I build the groundwork for a beautiful future now.
49.  My thoughts are sharp, clear, and motivated as I work toward my objectives.
50.  Quitting is simple, but I will keep working toward my objectives.
Tuesday Affirmations For Work
51.  Step by step, I work toward my objectives.
52.  I work hard and am results-oriented.
53.  I can achieve whatever that I am prepared to work for.
54.  I am willing to work on areas of my self-worth that I now perceive as being deficiencies.
55.  I start working toward my goals right away so that I can live the way I desire.
56.  If I want something, I must be prepared to work for it.
57.  I appreciate the harmony between work and self-care.
58.  In my dream workplace, I see myself.
59.  I am creating a network of people that can support me and inspire me.
60.  I feel vibrant, lively, and inspired to any work put in front of me.
Wednesday Affirmations For Work
61.  I am certain that I have the freedom to look for a job or employment that I will adore if I am not in love with my profession.
62.  I am confident I can land in the perfect job. My professional life is going great.
63.  In my interviews, I feel confident.
64.  I am not far from making my ideal salary.
65.  I have the necessary opportunities to advance in my career.
66.  I like that I pick up new skills quickly and utilize my resources well in my work.
67.  All the work I am doing will pay off well.
68.  I easily overcome challenges at work.
69.  I enjoy my work, and it plays a gratifying role in my quest for greater achievement.
70.  Working at my job place is something I absolutely love to do.
Thursday Affirmations For Work
71.  I am excited each day to go to work, since I appreciate what I do.
72.  The excellence of my work will bring in more money.
73.  I'm a good time manager who works hard to complete tasks on schedule.
74.  Things will go ideal and well at my work.
75.  With the work I'm doing, my company will succeed.
76.  I receive good pay and respect for my work.
77.  My success is the consequence of my perseverance and hard work.
78.  Every hour I put in at work, is another day closer to achieving my objectives.
79.  I work in the here and now.
80.  I appreciate how all problems at work are solved for me fast and easily.
Friday Affirmations For Work
81.  I am committed to my objectives and feel enthusiastic about my work.
82.  I have high ambitions in my role at work.
83.  I have less doubt in my ability as I work more.
84.  I contribute to society through my work.
85.  Success and development are inescapable results of my work.
86.  Challenges in my line of work inspire me.
87.  With my work, I make a small dent in the cosmos.
88.  I give my customers and clients my best work.
89.  Knowing that working more won't bring in more money, I work efficiently.
90.  I am adored and admired for my work and effort.
Short Positive Affirmations For Workplace
91.  I like to have conversations with my coworkers.
92.  Both at work and in my neighbourhood, there are many of amiable people.
93.  Every day, I'll work to make my connection better.
94.  My customers enjoy working with me.
95.  I always have success and enjoy affirmations that work.
96.  I work hard and stay focused.
97.  I work out with love.
98.  Even when I am not working, I am still appreciated.
99.  Each work gets more fun the more energy I have.