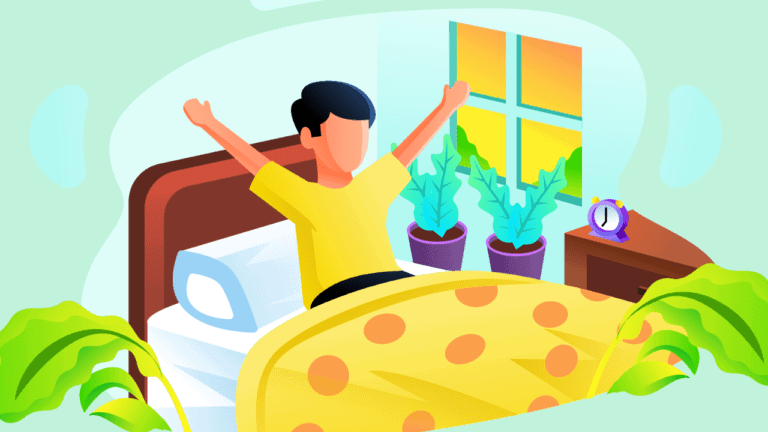 Positive morning affirmations are an excellent way to begin, move through, and end your day. They can benefit you in both your professional and personal lives.
Focus on the positive and all that could and will go well rather than the negative and everything that could go wrong. Having a good outlook on your workday not only raises your spirits, but it may also increase productivity and give you a more certain and focused start to the day.
In theory, it sounds fantastic, right? But what precisely are they, and how and why do they function? My selection of 100 inspiring positive morning affirmations can be found by continuing to read.
How To Use Positive Morning Affirmations
Affirmations are useful in any situation in which you would like to see a positive change in your life and can be utilised at any time. Examples of this could include situations in which you want to:
You should work on boosting your confidence before important presentations or meetings.

It is necessary to learn how to control negative emotions, such as impatience, fury, and irritation.

Build up your sense of self-assurance.

Finish the chores that you've already started.

Raise the amount that you produce.

Eliminate a behaviour that isn't serving you.
Affirmations have the potential to be more effective when used in conjunction with other techniques for goal-setting and positive thinking.
A good example of this would be the powerful synergy that exists between pictures and affirmations. In light of this, in addition to simply visualising the change you desire, you may also verbally or in writing convey the change you wish to see by using a positive morning affirmation.
It's possible that setting personal goals with the use of affirmations will be helpful. Once you've decided what you want to do, receiving encouraging feedback might help you stay motivated to work toward achieving your objectives.
Self-repetition on a consistent basis is essential to the efficacy of affirmations. It is to your advantage to repeat your affirmations on a regular basis throughout the day (you could even set your alerts to remind you of them!). Additionally, you should keep repeating your affirmations whenever you become aware that you are engaged in a thought or activity that you wish to eliminate. This should be done as soon as you become aware of the idea or action.
1.     I want to challenge myself more today.
2.     I am thankful for my health today and every day.
3.     Today, my main priority is my health.
4.     I feel gorgeous today.
5.     I shall be content, assured, and prosperous today.
6.     Today and every day, I deserve to feel joyful.
7.     I create the life I lead, and today I decide to make it a healthy one.
8.     If I failed yesterday, it's okay. It is a new day today.
9.     To begin a new life, I will today let go of all my worries and anxieties.
10.  I am going to breathe freely and profoundly today.
Good Morning Affirmations
11.  If all I did today was breathe, that's okay.
12.  Although I am aware that nothing will change overnight, I will calmly and gently make little choices today while keeping the bigger picture in mind.
13.  I am happy to still be alive today.
14.  I will take good care of my body today.
15.  Today is a day for fresh starts, and I greet it with brightened eyes and a revived spirit.
16.  I am not controlled by my thoughts; I am in charge of them. Today, I will think freely, joyfully, and positively.
17.  Today, I feel good, powerful, and healthy.
18.  It's a good day today! I am content, resilient, and optimistic!
19.  I want love to govern my heart, and I am determined to be content and joyful today.
20.  I give up my old behaviors today and adopt brand-new, healthier ones.
Positive Morning Affirmations
21.  It's my day today.
22.  I make the decision to think kindly today, and I work hard to build a wonderful and prosperous life for myself.
23.  I am not going to worry about stuff I can't control today.
24.  I am eager to see what today holds for me.
25.  Today makes me joyful.
26.  I will face today without dread.
27.  I can make a decision at any time, and today I have decided to be happy.
28.  I feel nothing but joy today.
29.  I will be sympathetic and kind today.
30.  In order to become my personal best today, I chose to study, develop, widen, and take incremental steps.
Powerful Morning Affirmations
31.  I look forward to today.
32.  I am thankful today.
33.  It's going to be a lovely day to remember today.
34.  Today, I make the decision to be exceptional.
35.  I make the decision to create my personal best today while showing compassion for my errors.
36.  I will take advantage of the opportunities that today presents to me.
37.  I make the decision to live a life that is immensely bountiful starting today.
38.  I am capable of overcoming any challenges that may arise today.
39.  Today, I am thrilled to take a step closer to achieving my objectives.
40.  I am willing to search for the positive aspects of my life today.
Morning Affirmations For Success
41.  I have the freedom to make decisions every day, and today I decided to be content.
42.  I will make today and the remaining days the most memorable days of my life.
43.  I won't be critical of myself today.
44.  I decide to get better today.
45.  What I will value tomorrow, I will do today.
46.  Today, everything I seek is coming after me.
47.  It is my day today.
48.  Today's goals are stepping stones on my path to achievement.
49.  I promise to improve upon yesterday's version of myself today.
50.  Today, I will find success.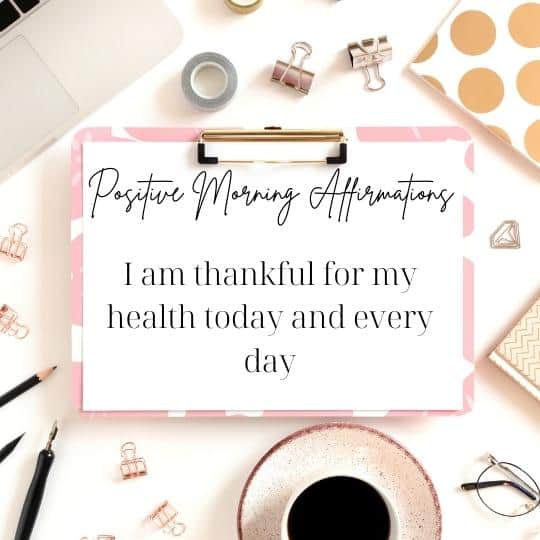 Morning Affirmations For Women
51.  I am capable of handling today's customer meeting.
52.  I am in control of my feelings, and I have decided to be joyful today.
53.  My success in the future will be rewarded by the duties I complete today.
54.  I make decisions today that will secure a good future.
55.  I will grow and learn today.
56.  I won't offer any justifications today, and I will follow the plan.
57.  I am in charge of my ideas, decisions, and deeds today.
58.  Today, I am exactly where I should be.
59.  The fantastic folks I am going to meet today have me incredibly psyched.
60.  I will take initiative and handle things well today.
Morning Affirmations For Men
61.  My passes to success are my objectives for today.
62.  Today I am receiving energy.
63.  The day today will be really fruitful.
64.  I am the kind of person who can give up today's pleasure for tomorrow.
65.  What I can accomplish today has no boundaries.
66.  I will utilize my time well today.
67.  Today, I gave my utmost effort in pursuit of my objectives.
68.  I will meet my sales goal today.
69.  I intend to make wise decisions today.
70.  My efforts today will pay off sooner than I anticipate.
Affirmations Miracle Morning
71.  I am going to try to find the good in every situation today.
72.  I will naturally prefer my long-term objectives today over my immediate pleasure.
73.  I am going to alter my life today.
74.  Today, my partner will formally commit to our deal.
75.  I am going to show love today.
76.  I will make progress today on my long-term objectives.
77.  I will make a significant step today toward achieving my objectives.
78.  I approach today with an open mind and a composed demeanor.
79.  I am thankful for today and tomorrow.
80.  I have promised myself that today will include at least an hour of "me" time.
Morning Positive Affirmations
81.  I will approach today with an open heart and mind.
82.  The beginning of everything I can do to alter my story is today.
83.  It's going to be a great day today.
84.  What I can and will accomplish today is not constrained in any way.
85.  Today, I make the decision to exude love, pleasure, and thankfulness.
86.  Happy morning. Yes, the morning and the day will be nice. I am appreciative of today.
87.  I will keep my heart and thoughts open today.
88.  Today, I will attempt something new.
89.  I will move closer to my objectives today.
90.  I chose happiness today because I am in control of how I feel.
Daily Morning Affirmations
91.  Today is going to be a great day because yesterday is over. I can handle this.
92.  I decide to be joyful, strong, and appreciative today.
93.  I will put my trust in divine guidance today, knowing that it will lead to happiness and wealth.
94.  Today, the world I live in is improving.
95.  Today, I awaken with courage in my heart and insight in my mind, giving me the capacity to choose wisely over the course of my day.
96.  I will have a good surprise today.
97.  There will be a lot of beauty today.
98.  Every day, including today, I decide to spread light.
99.  I have countless talents, which I am starting to use today with the assurance I need.
100.  Today, doors of wonderful opportunities open to me.