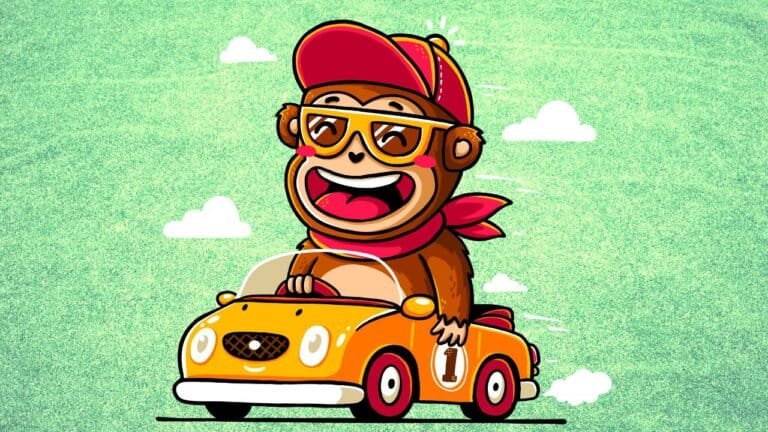 Here is a collection of 75 choose happiness quotes to brighten up your day.
1.     "Happiness is a warm puppy." ~Charles M. Schulz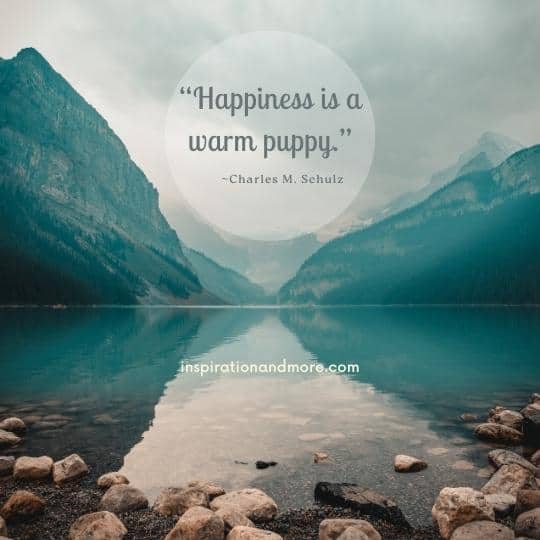 2.     "Happiness is having a large, loving, caring, close-knit family in another city." ~George Burns
3.     "Happiness is a thing to be practiced, like the violin." ~John Lubbock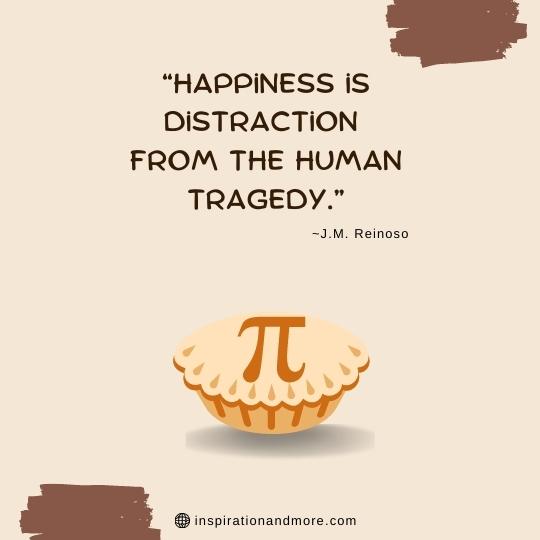 4.     "Action may not always bring happiness, but there is no happiness without action." ~William James
5.     "Happiness is when what you think, what you say, and what you do are in harmony." ~Mahatma Gandhi
6.     "Happiness is like a butterfly which, when pursued, is always beyond our grasp, but, if you will sit down quietly, may alight upon you." ~Nathaniel Hawthorne
7.     "As people spin faster and faster in the pursuit of merely personal happiness, they become exhausted in the futile effort of chasing themselves." ~Andrew Delbanco
8.     "Happiness is a perfume you cannot pour on others without getting some on yourself." ~Ralph Waldo Emerson
9.     "True happiness is – to enjoy the present, without anxious dependence upon the future." ~Lucius Annaeus Seneca
10.  "Happiness is always the serendipitous result of looking for something else." ~Dr. Idel Dreimer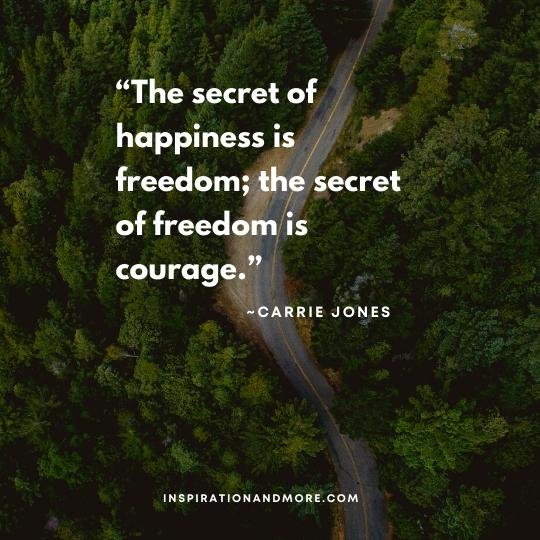 11.  "The happiness of life is made up of the little charities of a kiss or smile, a kind look, a heartfelt compliment." ~Samuel Taylor Coleridge
12.  "Happiness grows at our own firesides, and is not to be picked in strangers' gardens." ~Douglas Jerrold
13.  "Happiness is distraction from the human tragedy." ~J.M. Reinoso
14.  "Happiness is largely a choice, not a right or entitlement." ~David C. Hill
15.  "All happiness depends on courage and work." ~Honoré de Balzac
16.  "Learn to let go. That is the key to happiness." ~Buddha
17.  "You cannot protect yourself from sadness without protecting yourself from happiness." ~Jonathan Safran Foer
18.  "Everybody in the world is seeking happiness, and there is one sure way to find it. That is by controlling your thoughts. Happiness doesn't depend on outward conditions. It depends on inner conditions." ~Dale Carnegie
19.  "The world is full of people looking for spectacular happiness while they snub contentment." ~Doug Larson
20.  "In my life I've learned that true happiness comes from giving. Helping others along the way makes you evaluate who you are. I think that love is what we're all searching for. I haven't come across anyone who didn't become a better person through love." ~Marla Gibbs
21.  "Happiness is the resultant of the relative strengths of positive and negative feelings rather than an absolute amount of one or the other." ~Norman Bradburn
22.  "All happiness or unhappiness solely depends upon the quality of the object to which we are attached by love." ~Baruch Spinoza
23.  "Happiness is excitement that has found a settling down place. But there is always a little corner that keeps flapping around." ~E.L. Konigsburg
24.  "Cake is happiness! If you know the way of the cake, you know the way of happiness! If you have a cake in front of you, you should not look any further for joy!" ~C. JoyBell C.
25.  "Happiness does not come from without, it comes from within." ~Helen Keller
26.  "The secret of happiness is freedom; the secret of freedom is courage." ~Carrie Jones
27.  "True happiness is not attained through self-gratification, but through fidelity to a worthy purpose." ~Helen Keller
28.  "Plenty of people miss their share of happiness, not because they never found it, but because they didn't stop to enjoy it." ~William Feather
29.  "The essence of philosophy is that a man should so live that his happiness shall depend as little as possible on external things." ~Epictetus
30.  "Happiness is being content with what you have, living in freedom and liberty, having a good family life and good friends." ~Divyanka Tripathi
31.  "There is no cosmetic for beauty like happiness." ~Lady Blessington
32.  "Happiness and the absurd are two sons of the same earth. They are inseparable." ~Albert Camus
33.  "Happiness is letting go of what you think your life is supposed to look like and celebrating it for everything that it is." ~Mandy Hale
34.  "The greatest happiness of life is the conviction that we are loved; loved for ourselves, or rather, loved in spite of ourselves." ~Victor Hugo
35.  "It is a happiness to wonder; it is a happiness to dream." ~Edgar Allan Poe
36.  "Happiness makes up in height for what it lacks in length." ~Robert Frost
37.  "The secret of happiness is to find a congenial monotony." ~V.S. Pritchett
38.  "The secret of happiness is not in doing what one likes, but in liking what one does." ~James M. Barrie
39.  "Happiness always looks small while you hold it in your hands, but let it go, and you learn at once how big and precious it is." ~Maxim Gorky
40.  "Every gift from a friend is a wish for your happiness." ~Richard Bach
Happiness Quotes About Life
41.  "The true secret of happiness lies in the taking a genuine interest in all the details of daily life." ~William Morris
42.  "Love is that condition in which the happiness of another person is essential to your own." ~Robert A. Heinlein
43.  "Happiness is a matter of one's most ordinary and everyday mode of consciousness being busy and lively and unconcerned with self." ~Iris Murdoch
44.  "The happiness which is lacking makes one think even the happiness one has unbearable." ~Joseph Roux
45.  "A great obstacle to happiness is to expect too much happiness." ~Bernard de Fontenelle
46.  "Happiness is where we find it, but very rarely where we seek it." ~J. Petit Senn
47.  "True happiness is to enjoy the present, without anxious dependence upon the future, not to amuse ourselves with either hopes or fears but to rest satisfied with what we have, which is sufficient, for he that is so wants nothing. The greatest blessings of mankind are within us and within our reach. A wise man is content with his lot, whatever it may be, without wishing for what he has not." ~Seneca
48.  "The happiness of your life depends upon the quality of your thoughts." ~Marcus Aurelius
49.  "It's the moments that I stopped just to be, rather than do, that have given me true happiness." ~Richard Branson
50.  "The summit of happiness is reached when a person is ready to be what he is." ~Erasmus
Quotes About Happiness And Love
51.  "Happiness and sadness run parallel to each other. When one takes a rest, the other one tends to take up the slack." ~Hazelmarie Elliott
52.  "Sanity and happiness are an impossible combination." ~Mark Twain
53.  "We tend to forget that happiness doesn't come as a result of getting something we don't have, but rather of recognizing and appreciating what we do have." ~Frederick Keonig
54.  "Happiness is not something ready-made. It comes from your own actions." ~Dalai Lama XIV
55.  "I think and think and think. I have thought myself out of happiness one million times, but never once into it." ~Jonathan Safran Foer
56.  "Happiness is the meaning and the purpose of life, the whole aim and end of human existence." ~Aristotle
57.  "Remember, happiness doesn't depend upon who you are or what you have, it depends solely upon what you think." ~Dale Carnegie
58.  "To be without some of the things you want is an indispensable part of happiness." ~Bertrand Russell
59.  "If there were in the world today any large number of people who desired their own happiness more than they desired the unhappiness of others, we could have a paradise in a few years." ~Bertrand Russell
60.  "Happiness is good health and a bad memory." ~Ingrid Bergman
61.  "Seize the moments of happiness, love and be loved! That is the only reality in the world, all else is folly. It is the one thing we are interested in here." ~Leo Tolstoy
62.  "Happiness is a place between too much and too little." ~Finnnish Proverb
63.  "A really great talent finds its happiness in execution." ~Johann Wolfgang von Goethe
64.  "Happiness is holding someone in your arms and knowing you hold the whole world." ~Orhan Pamuk
65.  "Happiness is itself a kind of gratitude." ~William James
66.  "If you want happiness for an hour – take a nap. If you want happiness for a day – go fishing. If you want happiness for a month – get married. If you want happiness for a year – inherit a fortune. If you want happiness for a lifetime – help someone else." ~Chinese Proverb
67.  "Happiness is not an ideal of reason, but of imagination." ~Immanuel Kant
68.  "Everyone wants to live on top of the mountain, but all the happiness and growth occurs while you're climbing it." ~Andy Rooney
69.  "Happiness is a state of mind. It's just according to the way you look at things." ~Walt Disney
70.  "My happiness grows in direct proportion to my acceptance, and in inverse proportion to my expectations." ~Michael J. Fox
71.  "Happiness depends upon ourselves." ~Aristotle
72.  "Happiness in this world, when it comes, comes incidentally. Make it the object of pursuit, and it leads us a wild-goose chase, and is never attained." ~Nathaniel Hawthorne
73.  "There can be no happiness if the things we believe in are different from the things we do." ~Freya Stark
74.  "Happiness is not achieved by the conscious pursuit of happiness; it is generally the by-product of other activities." ~Aldous Huxley
75.  "We have no more right to consume happiness without producing it than to consume wealth without producing it." ~George Bernard Shaw