Sometimes, hearing something is all you need to boost your confidence. To be told that you are valuable or to be told that you already possess the confidence and you only need to discover it. You are amazing just the way you are, regardless of your age, history, profession, or body shape. If you need a reminder, read this collection of confidence quotes for women from the most fearless women in history to be reassured that it was always there.
Confidence Quotes For Women
1.     "I have always believed that fashion was not only to make women more beautiful but also to reassure them, give them confidence." ~Yves Saint Laurent
2.     "My confidence comes from the daily grind – training my butt off day in and day out." ~Hope Solo
3.     "Confidence is one of the sexiest things in guys and girls." ~Danica McKellar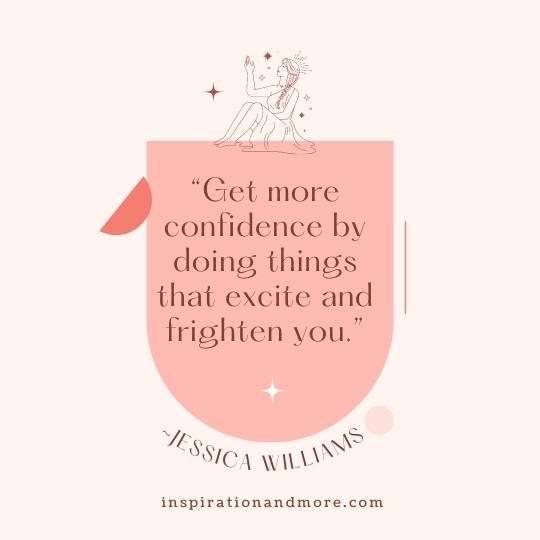 4.     "I was always looking outside myself for strength and confidence but it comes from within. It is there all the time." ~Anna Freud
5.     "There's a confidence and sense of self that comes with age that I didn't anticipate." ~Jillian Michaels
6.     "Confidence makes you sexy." ~Queen Latifah
7.     "It's all about confidence and how you feel about yourself. There's no such thing as a perfect woman. I like imperfections – that's what makes you unique." ~Hayley Hasselhoff
8.     "I think the best way to have confidence is not to allow everyone else's insecurities to be your own." ~Jessie J
9.     "Self-confidence is a super power. Once you start to believe in yourself, magic starts happening." ~Unknown
10.  "To succeed in life, you need two things: ignorance and confidence." ~Mark Twain
11.  "Take care of your costume and your confidence will take care of itself." ~Amit Kalantri
12.  "Life is not easy for any of us. But what of that? We must have perseverance and, above all, confidence in ourselves. We must believe that we are gifted for something, and that this thing, at whatever cost, must be attained." ~Marie Curie
13.  "I have great faith in fools; self-confidence my friends call it." ~Edgar Allan Poe
14.  "It is best to act with confidence, no matter how little right you have to it." ~Lillian Hellman
15.  "Don't take anything for granted. If you don't believe in yourself, nobody else will. Have a little more confidence." ~Cathy Moriarty
16.  "Get more confidence by doing things that excite and frighten you." ~Jessica Williams
17.  "Fashion is not necessarily about labels. It's not about brands. It's about something else that comes from within you." ~Ralph Lauren
18.  "Every woman that finally figured out her worth, has picked up her suitcases of pride and boarded a flight to freedom, which landed in the valley of change." ~Shannon L. Alder
19.  "You have to have confidence in your ability, and then be tough enough to follow through." ~Rosalynn Carter
20.  "I think confidence is a true form of beauty." ~Becky G
21.  "Doubt can motivate you, so don't be afraid of it. Confidence and doubt are at two ends of the scale, and you need both. They balance each other out." ~Barbra Streisand
22.  "If you're presenting yourself with confidence, you can pull off pretty much anything." ~Katy Perry
23.  "Inhale confidence, exhale doubt." ~Unknown
24.  "Self-confidence grows on trees in other people's orchards." ~Mignon McLaughlin
25.  "Believing in yourself and having confidence gives you outer strength." ~Nikki Bella
26.  "Confidence – It all has to do with how you feel about yourself – it's about projecting the attitude, I'm happy with who I am." ~Jennifer Lopez
27.  "Action is a high road to self-confidence and esteem. Where it is open, all energies flow toward it. It comes readily to most people, and its rewards are tangible." ~Bruce Lee
28.  "Only my own personal vision holds me back." ~Oprah Winfrey
29.  "The most courageous act is still to think for yourself. Aloud." ~Coco Chanel
30.  "Don't back down just to keep the peace. Standing up for your beliefs builds self-confidence and self-esteem." ~Oprah Winfrey
Confidence Boosting Quotes
31.  "You just have to be yourself and go full with confidence and be courageous." ~Gabby Douglas
32.  "Find what makes you feel comfortable. The confidence you wear your clothes in is what's really going to shine." ~Hayley Hasselhoff
33.  "Optimism is the faith that leads to achievement. Nothing can be done without hope or confidence." ~Helen Keller
34.  "Believe in yourself! Have faith in your abilities! Without a humble but reasonable confidence in your own powers you cannot be successful or happy." ~Norman Vincent Peale
35.  "The problem with the world is that the intelligent people are full of doubts while the stupid ones are full of confidence." ~Anonymous
36.  "It is confidence in our bodies, minds and spirits that allows us to keep looking for new adventures." ~Oprah Winfrey
37.  "I had to grow to love my body. I did not have a good self-image at first. Finally, it occurred to me, I'm either going to love me or hate me. And I chose to love myself. Then everything kind of sprung from there. Things that I thought weren't attractive became sexy. Confidence makes you sexy." ~Queen Latifah
38.  "I have a lot of confidence in myself, and I love that challenge as well. I love going to every competition as the favourite. It's something I relish." ~Katie Taylor
39.  "I taught myself confidence. When I'd walk into a room and feel scared to death, I'd tell myself, 'I'm not afraid of anybody.' And people believed me. You've got to teach yourself to take over the world." ~Priyanka Chopra
40.  "Owning our story and loving ourselves through that process is the bravest thing we'll ever do." ~Brené Brown
Inspirational Confidence Quotes
41.  "Life is either a daring adventure or nothing." ~Helen Keller
42.  "Logic is the art of going wrong with confidence." ~Joseph Wood Krutch
43.  "Sometimes, if you fake confidence long enough, you're going to be confident." ~Elle King
44.  "What I find powerful is a person with the confidence to be her own self." ~Oprah Winfrey
45.  "The most beautiful thing you can wear is confidence." ~Blake Lively
46.  "We must have perseverance, and above all, confidence in ourselves. We must believe that we are gifted for something, and that this thing, at whatever cost, must be attained." ~Marie Curie
47.  "It takes a lot for you to find your confidence, but you shouldn't let someone else be the person to find it for you." ~Justine Skye
48.  "Confidence is everything. Confidence is what makes that simple white tee and jeans look good." ~Ciara
49.  "Confidence is key. Sometimes, you need to look like you're confident even when you're not." ~Vanessa Hudgens
50.  "Confidence isn't optimism or pessimism, and it's not a character attribute. It's the expectation of a positive outcome." ~Rosabeth Moss Kanter
51.  "I was always looking outside myself for strength and confidence but it comes from within. It is there all the time." ~Anne Freud
52.  "Why should we worry about what others think of us, do we have more confidence in their opinions than we do our own?" ~Brigham Young
53.  "Quit beating yourself up, beat your goals up instead." ~Nora Roberts
54.  "Why should I care what other people think of me? I am who I am. And who I wanna be." ~Avril Lavigne
55.  "We gain strength, and courage, and confidence by each experience in which we really stop to look fear in the face, we must do that which we think we cannot." ~Eleanor Roosevelt
56.  "Confidence. If you have it, you can make anything look good." ~Diane von Furstenberg
57.  "Through my education, I didn't just develop skills, I didn't just develop the ability to learn, but I developed confidence." ~Michelle Obama
58.  "Confidence is the most beautiful thing you can possess." ~Sabrina Carpenter
59.  "I have a confidence about my life that comes from standing tall on my own two feet." ~Jane Fonda
60.  "People who repeatedly attack your confidence and self-esteem are quite aware of your potential, even if you are not." ~Wayne Gerard Trotman
You can increase your confidence by reading one of the many Confidence Quotes for Women. Only a select few quotes, though, will inspire you to gain more self-confidence and transform your life. These quotations on confidence were chosen with care to inspire and empower women everywhere to increase their level of self-assurance.
The most coveted human quality is confidence. I think one can develop confidence. Our chances of success in life, both personally and professionally, will grow as we gain confidence.
One of the most crucial life phases, confidence is the ultimate self-esteem motivator. Confidence is always a key to experiences and success, no matter what you do or want.